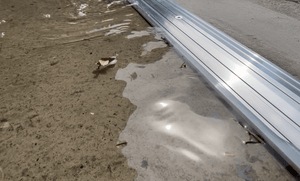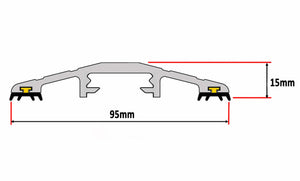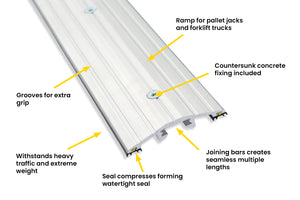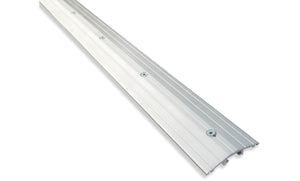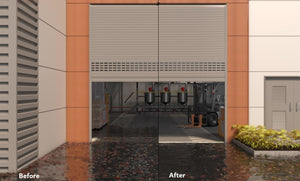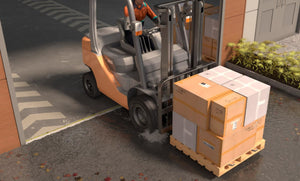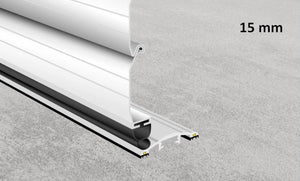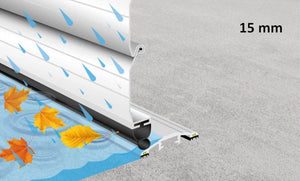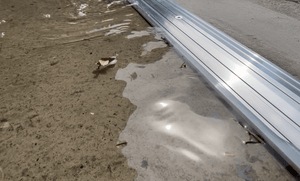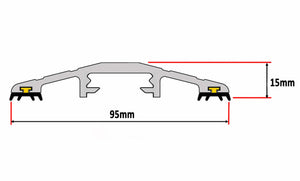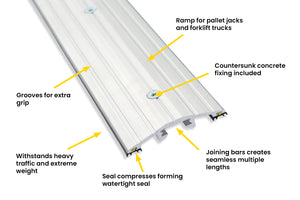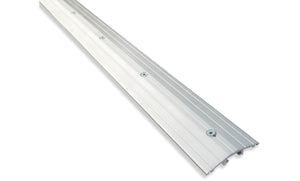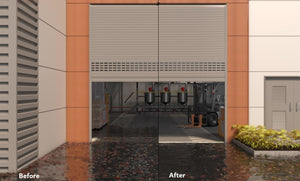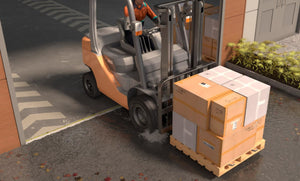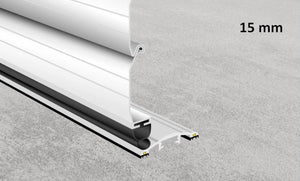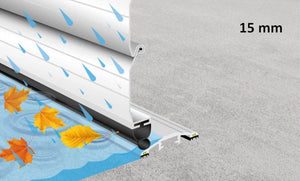 Commercial Door Threshold Seal 15mm (High)
Description
This 15mm commercial threshold kit is the perfect addition to any business premises. This is because it will not only secure your warehouse from any water that might be making its way inside, it will also stop any dust, debris and leaves which would have been blown in by the wind. It will provide you with a dry and clean environment whether you use it in your garage or the roller shutter in your warehouse.
It will also act as a guard against any rodents and snakes that may be wanting to make their way inside. Vermin, like mice for example, won't be able to chew through it and because it is tightly sealed, they will be unable to enter. The kit is also designed to withstand heavy amounts of traffic from industrial vehicles.
Why should I consider buying the 15mm commercial threshold kit?
Firstly, one of the biggest reasons to get a piece of kit like this is to secure all of the tools, equipment, and cardboard you may have in your premises. Due to the kit stopping water from coming in, it reduces water condensation so for example cardboard boxes won't be water damaged. This also works when it comes to metal tools and equipment as the seal will slow down the effects of rusting by stopping water in its tracks.
Secondly, you can also purchase this for your garage where the kit will still work like a dream in all the same ways. It is especially effective to install a commercial threshold seal when you have converted your garage to a workshop or the like. The product will function in the exact same way there, shielding you from the weather and any unwanted pest infestations. 
What is your commercial door threshold seal made of?
This commercial door threshold seal is made of interlocking sections of aluminium, which makes them not only very durable but also extremely recyclable and eco-friendly. The way it's constructed is that the sections are laid out together and then a flat bar insert is put in to make them into a single rigid section and create the full seal. This combined with the PVC inserts on the sides effectively makes them an impenetrable barrier from water up to 15mm high, as long as the seal is secured properly. If you'd like to check out more products made from the same material then have a look at our garage door threshold seals by clicking here.
The kit includes:
Aluminium section(s)
Bottom insert seals
Top cap
Concrete screws
T30 screwdriver bit
Flat bar insert(s)
Grub screws
Allen Key
Instruction booklet with easy-to-follow instructions
Commercial Door Threshold Kit Lengths
Kits longer than 2.5m (8'2") will be supplied with multiple aluminium sections, please refer to the table below:
| | |
| --- | --- |
| Kit Length | Aluminium Sections |
| 2.0m (6'6") | 1 x 2.0m (6'6") |
| 2.5m (8'2") | 1 x 2.5m (8'2") |
| 3.1m (10'2") | 2 x 1.55m (5'1") |
| 4.0m (13'1") | 2 x 2.0m (6'6") |
| 4.5m (14'8") | 1 x 2.5m (8'2"), 1 x 2.0m (6'6") |
| 5.0m (16'4") | 2 x 2.5m (8'2") |
| 5.6m (18'4") | 1 x 2.5m (8'2"), 2 x 1.55m (5'1") |
| 6.0m (19'8") | 3 x 2.0m (6'6") |
| 7.0m (22'11") | 2 x 2.5m (8'2"), 1 x 2.0m (6'6") |
| 8.0m (26'2") | 4 x 2.0m (6'6") |
| 9.0m (29'6") | 2 x 2.5m (8'2"), 2 x 2.0m (6'6") |
How can I get in touch with GaraDry®?
You can contact us via the contact form which you can find at the top of the page or by clicking here, it will ask you to fill out all of your details and then submit a query. Our customer service team aim to answer any questions within 24 hours of receiving the email, though often it will be quicker than that. If you would prefer to send an email then fire it over to sales@garadry.com.au, and we will answer it within the same timeframe, but it allows you to have more freedom in how you address your query.
Delivery & Returns
Delivery Timescales
Orders are shipped via FedEx Air Express service. All orders are usually dispatched within 24 hours, excluding weekends, and delivery is usually within one week. We offer a fully tracked service for every shipment, so you can track your delivery all the way from point of order to your doorstep.
Delivery Costs
We offer delivery options as out-lined below
Delivery Country
Weight
Cost
Delivery Timescale
Australia
0-5kg
$23.40
6-7 Days via Air Express
6-10kg
$30.42
11-15kg
$46.80
16-20kg
$58.50
21-25kg
$74.88
26-30kg
$88.92
31-35kg
$100.62
36kg
Price at checkout