Our Range of Garage Door Seals
Garage Door Seal Kits
Central Profile

Seals against the door creating a watertight seal

Yellow Warning Line

Designed with safety in mind to prevent tripping & falls

Durable Thermoplastic Material

Durable & fleixble - 100% recyclable, and does not degrade over time

Serrated Bottom Edge

Creates a stronger bond to the adhesive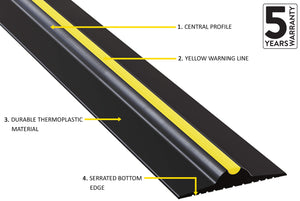 Commercial Door Seals
Central Profile

Designed with safety in mind to prevent tripped & falls

Joining Bars

Internal joining bars allow multiple sections to be joined to create a seamless seal

Aluminium Material

Designed to withstand heavier loads, up to 50 ton. Gentle ramp profile allows forklift trucks and pallet trucks to easily pass over

Bottom Insert Seal

Compresses against floor to create a watertight seal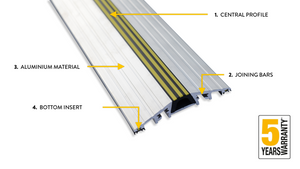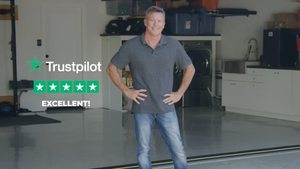 The Best Garage Door Threshold Seals
When we first designed the garage door seal thresholds you can see above, we were way ahead of the competition. Over the years we have slowly iterated on the design to the one you know today, creating a varied range of products all tested and curated to protect garages. Our products are here to make sure that you never have to sweep the garage again, making it fully waterproof and preventing any windswept debris from making its way inside the garage.
The garage door seals and commercial door seals you can see on our website act as an excellent rodent repellant by sealing the gap between the bottom of the garage door and the floor. This makes it nigh on impossible for mice and rats to get through provided the seal has been installed properly.
Our Seals:
•Prevent rainfall getting into the garage making it waterproof
•Keep heat in and reduce energy costs
•Give you more free time as you don't have to maintain your garage as often
•Help prevent rodent infestations
•Keep leaves and other windswept debris out of the garage
•Stop rodents, snakes, and some insects from going inside
•Stops leaves being blown under the door

Why should you consider picking up a garage door seal?
At GaraDry® we are dedicated to making sure that you get the product that you need, whether it be for domestic garages or commercial applications with roller shutter doors and the like, we have the stock to make it work. If you navigate yourself to our "All Products" page, you will find everything we sell which will build your confidence in our dedication to keeping your garage clean and dry.
One of the largest problems that we have seen over the years is people not waterproofing their garage against the elements, and we made it our mission statement to fix that issue.

All our products work towards that goal by providing you with protection 24 hours a day, no one likes to clean the garage after a big storm has brought leaves, papers and whatever else it could carry to your door. However, with our products you will not have to worry about that or the dampness ever again.

The entire range of products you can see on the site will prevent your tools and equipment from rusting in the garage, as naturally by removing the dampness and condensation part of stormy nights they also get the rest. Additionally, any cardboard, paper or food stores will remain perfectly contained with our seals.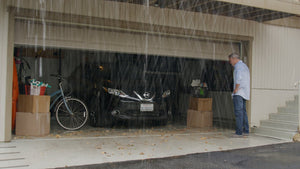 How do our products function?
Every seal has a slightly different way of working and how much they can take. With our garage door seal kits, they start from 15mm all the way up to 50mm in height, with the largest being seen as a dam that can stop flooding entirely entering the garage.
They and our commercial threshold seal range when stuck down to the floor properly will form a watertight seal which is the way they prevent flooding in the garage. There is very little that can penetrate through the barrier when it and the garage door are working in tandem.

They are also extremely simple to install, on our YouTube channel you can find guides for installing all the products you can see on our website. The instruction booklet for the garage door seal kits comes with a QR link to the YouTube video which will help you install it once you have the product in your hands, but the instruction pages will help you well enough to affix the seal to the floor and garage door.