Commercial Door Seals
Our commercial door seals are made from a heavy duty aluminium making them ideal for installation in industrial premises where there is heavy traffic such as forklifts, tractors, pallet trucks etc. The innovative design of our aluminium thresholds incorporates bottom insert seals, which compress providing a tight seal against wind driven rain water and debris. The commercial door thresholds are suitable for use with all types of garage and roller shutter doors.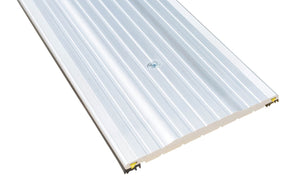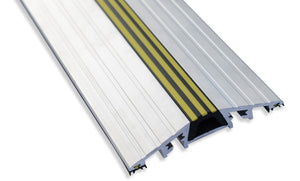 Durable Commercial Door Threshold Seals

Our commercial door threshold seal range has been designed to work with any roller shutter and sectional doors. They were created by a fully qualified industrial designer to not only be durable and able to withstand heavy weights of all kinds, they were also designed to be the perfect shield against rainfall and other weather conditions. If you would like a demonstration of the durability of the thresholds you can click on this video which is the stress test of our 25mm commercial door threshold seal, which showed it withstanding weights of up to 13,000kg.

These commercial door threshold seals can be used for a variety of different purposes from barns, warehouses to being used in larger garages and airports. Despite being rigid and made of aluminium the way you can use them is very flexible, they are all made of interlocking pieces of aluminium allowing you to select a variety of lengths that will be fit for any purpose. You will find that all GaraDry products come with a 5 year warranty, this is because we believe in the quality and durability of our product and want you to be happy with your purchase.

How do our Commercial Door Threshold Seals Protect your Premises?

The most simple way to define how our seals work is just that when placed under a sectional or roller shutter door they will seal any and all gaps between the floor and door. This then makes sure that no rodents, debris or vermin will be making their way inside your business premises. Our seals can also be placed behind the tracks if that is easier for you, as long as the commercial door threshold seal can press against the back of the door it will continue creating a watertight seal. This works because of the PVC seals found on all the products in the collection on the sides which will stop any and all effects of the elements.

When you first install the commercial door threshold seal you should see instantaneous effects, one of these being helping draughts. Because the gap between the door and floor is sealed, it will make sure that very little wind will pass through, saving you some energy costs in your business premises. Whether you have heavy machinery or use a lot of cardboard boxes our seals will protect both in the same way, by stopping the effects of condensation. This will protect the metal machinery from rusting and stop the cardboard from experiencing water damage.

Threshold Seals for Industrial Purposes

Distinguishing between our garage door threshold seals and these commercial door threshold seals is quite easy. The former is able to withstand an impressive amount of weight however the aluminium seals were created in order to work with all heavy traffic, whether that comes in the form of pallet stackers, airplanes, forklifts or trucks. This means that it is an all purpose wonder when it comes to industrial uses. If you pick the correct size, which our threshold buying guide can help you with, you will have an easy time applying our ultimate solution to any problem you may have.

Because they are made with the interlocking sections of aluminium mentioned prior, it means that you can theoretically combine them for up to 20 metres in length. This should fulfil any operation and business needs. If you would like to find out more about the products click on each one above to see what they offer so that you are picking one that will work for you. They each have different uses and picking your ideal one will make sure that you are getting your money's worth.