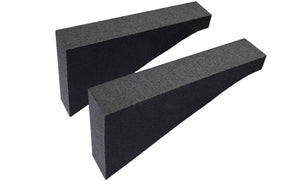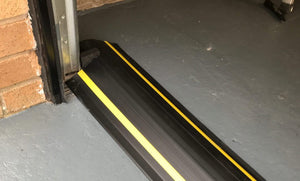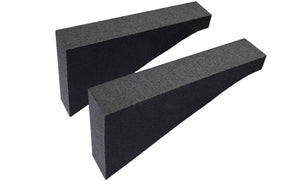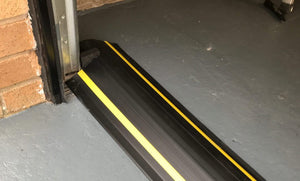 Garadam Foam Side Blocks
Description
Why do you need "Garadam" Side Blocks?
These foam side blocks are typically used with the "Garadam" garage door flood barrier to stop water spilling over the sides on installations where the Garadam is required to be fitted further back from the door. The contoured shape of the blocks means they perfectly fit the product and will work ideally if you need to install the seal further back behind the tracks. This will let you feel secure with your purchase and will be a helpful addition to the purchase of our largest seal.
How do I install the "Garadam" Side Blocks?
The side block should be installed in line with the inside edge of the door tracks or frame. The foam block can be easily cut to size to fit, depending on how far back from the edge of the door the threshold is installed. Once measured and cut to size, simply apply GaraDry adhesive & sealant to the bottom, curved edge of the foam block and place on top of the Garadam. Press down and hold in place for a few moments to ensure a tight seal between the block and the threshold. Repeat the process for the other end of the threshold with the second block.
If you look at our gallery on this page the second picture exemplifies exactly how the block will fit into the gap. All you need to do is to push it down to ensure a tight fit which will protect you from the water spilling over the sides and keep it waterproof.
What are the Side Blocks made from?
Both these and our foam side blocks are made from high density rigid closed cell foam. This foam is designed to be water resistant and hydrophobic to pair up perfectly with our "Garadam" threshold seal.
How can I contact GaraDry if I have any questions?
There are two options you have when you would like to get in touch with us. The first is to email sales@garadry.com.au which will put your email through to our customer service team who will deal with your enquiry within 24 hours on a business day. The other way to contact us is to go to this page and fill out the associated form on which you can fill out everything you need at your own pace laid out clearly for you. We look forward to hearing from you!
Delivery & Returns
Delivery Timescales
Orders are shipped via FedEx Air Express service. All orders are usually dispatched within 24 hours, excluding weekends, and delivery is usually within one week. We offer a fully tracked service for every shipment, so you can track your delivery all the way from point of order to your doorstep.
Delivery Costs
We offer delivery options as out-lined below
Delivery Country
Weight
Cost
Delivery Timescale
Australia
0-5kg
$23.40
6-7 Days via Air Express
6-10kg
$30.42
11-15kg
$46.80
16-20kg
$58.50
21-25kg
$74.88
26-30kg
$88.92
31-35kg
$100.62
36kg
Price at checkout