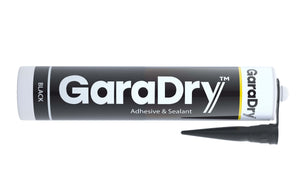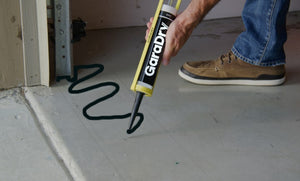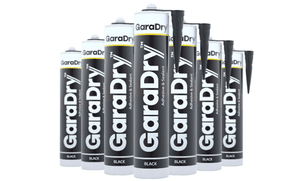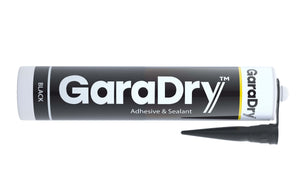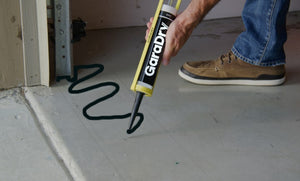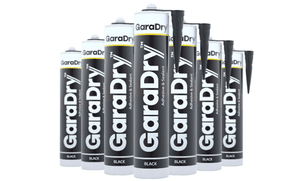 GaraDry® Adhesive & Sealant (Black)
Description
What is GaraDry® Adhesive & Sealant?
The adhesive & sealant you see on this page has been designed specifically for use with our garage door threshold seal products. This adhesive is not only durable, but it has excellent adhesion to any non-porous surface allowing you to install any of our products effortlessly.
This product isn't just for those particular PVC garage door threshold seals but works with our aluminium range of threshold seals and works perfectly with uneven floors. The reason for this is that you can add a bead of sealant or more if you need to fill in any gaps, which will allow you to install the commercial seal with absolutely no problems.
Why is our GaraDry® adhesive & sealant different?
The main distinguishing factor between this product and other ones on the market is how easily it bonds to damp surfaces. Not only that but you can paint over it with most commercial paints available and experience no issues.
Additionally, the sealant is odourless, and has a long shelf life of 18 months. It is also free of isocyanates which makes it free of highly reactive chemicals, in short making it very safe.
Features:
Increased surface grab
Increased durability and flexibility versus traditional sealants
Longer shelf life
Specifically engineered for maximum performance with our entire threshold seal range
Preparing The Floor for Application of the Adhesive
The adhesive & sealant has been extensively tested and designed by us to stick to sealed concrete floors. The first thing you should do is clean the floor to remove any dirt, oil, grease, or any other debris that may prevent the adhesive & sealant from adhering properly to the surface.
Another thing to take note of is that should the surface the adhesive will be going on is painted it will be best to use a wire brush to remove loose paint from the floor. If the concrete has a chalky or powdery surface (common with newly laid concrete), we recommend using a block paving or concrete sealer to seal the surface before you apply the adhesive.
How long does it take to dry?
This question is entirely dependent on the weather conditions on the day. How humid and how hot it is will influence the drying process. The best way to ensure a strong bond is to leave the adhesive to cure overnight before driving over it with any vehicles allowing it time to set properly.
Documentation
How can I contact GaraDry?
There are two main ways that our customers get in touch with us, the first is to fill out the contact form found here. It is laid out neatly and all you will need to do is fill out all the information on it and send your form over to our customer service team. You can also email them by emailing sales@garadry.com.au which will also put you straight through to them. We aim to reply to all communication within 24 hours of receipt.
Delivery & Returns
Delivery Timescales
Orders are shipped via FedEx Air Express service. All orders are usually dispatched within 24 hours, excluding weekends, and delivery is usually within one week. We offer a fully tracked service for every shipment, so you can track your delivery all the way from point of order to your doorstep.
Delivery Costs
We offer delivery options as out-lined below
Delivery Country
Weight
Cost
Delivery Timescale
Australia
0-5kg
$23.40
6-7 Days via Air Express
6-10kg
$30.42
11-15kg
$46.80
16-20kg
$58.50
21-25kg
$74.88
26-30kg
$88.92
31-35kg
$100.62
36kg
Price at checkout