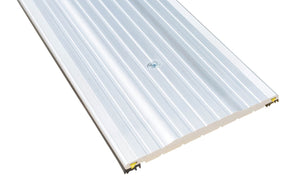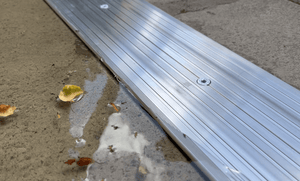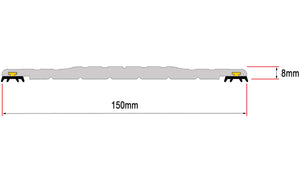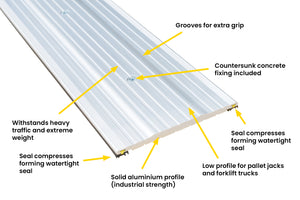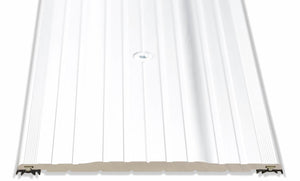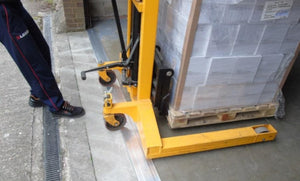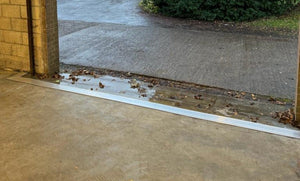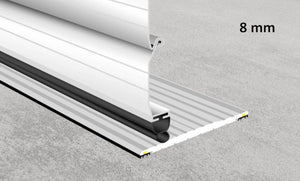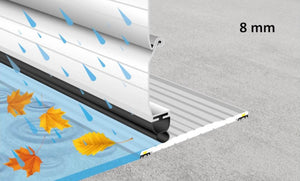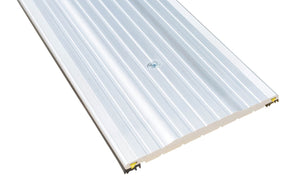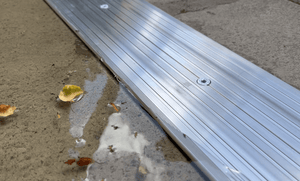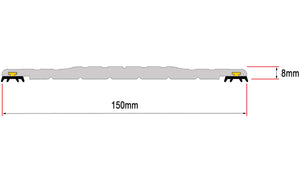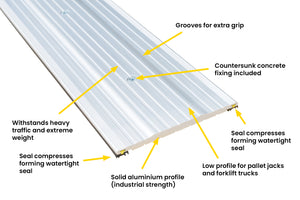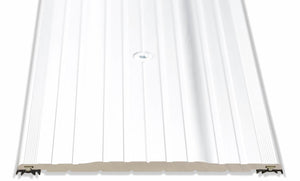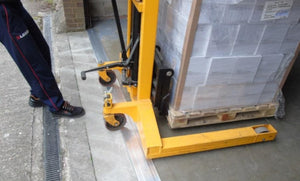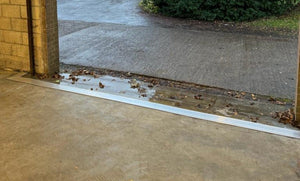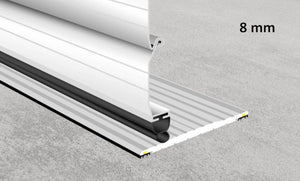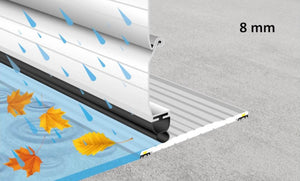 Industrial Strength Aluminium Threshold Seal Kit 8mm (High)
Description
This industrial strength aluminium threshold seal is the lowest profile of this particular type however that isn't to say that it's the smallest. In terms of width, it's our widest aluminium threshold, and it's even wider than the 25mm high threshold seal and is designed specifically to handle extremely heavy weights, which is why we use the term industrial strength when describing it.
Being able to withstand a lot of weight isn't the only reason this product is popular with our customers. Just like our other seals this works in combination with the PVC material underneath, and when it is affixed to the floor it creates a watertight seal up to 8mm highwhich will prevent any water escaping into your premises.
What is the industrial strength threshold seal made of?
Rather than being supplied as one long strip of metal, these seals are all made from pieces of aluminium supplied together as sections. They all have the same thermoplastic seals as you would find on our other products but condensed and on the bottoms of the right and left side of the sections. The seal is supplied with screws which are used for fixing it to the concrete so that the product is neatly placed on the floor and screwed into the ground securely to withstand any vehicles passing over it.
If your premises have uneven flooring, you can also use our adhesive and sealant which is usually provided with our garage door threshold seals. However there is no reason why it can't be used with this particular product, because the seal is flattened and screwed into the floor putting the sealant on it is absolutely no problem. This will help to create a watertight seal and negate any unevenness in the floor.
Are there any other reasons to get the industrial strength threshold seal?
This seal is a low profile compared to some of the others and flat which means it's a very smooth journey for any vehicle exiting the premises. Another upside is that because it seals the garage door and floor securely it means that mice and other small rodents won't be able to squeeze in and enter.
Due to waterproofing the area, it also means that there will be minimal condensation build-up. This means that any cardboard or paper in your stores will be protected, additionally any tools or equipment which is made of iron will also rust a lot slower. In terms of shielding from the weather, the seal will also stop any leaves and other windswept debris from going inside the premises keeping it clean and dry.
This kit includes:
Aluminium sections dependant on length
Bottom insert seals
Concrete screws
T30 screwdriver bit
Instructions for the installation of the threshold
How can I contact you?
You can get in touch with us by sending an email to sales@garadry.com.au and we will respond to it within 24 hours of receiving it. Regardless of the query we will try to help you with it and help you make a decision that is perfect for you. You can also use the contact form located at the top of the page under "Enquiries" or by clicking here, which you can fill out with your details and questions, and we will respond to you in a similar timely fashion.

Kits longer than 2.5m (8'2") will be supplied with multiple aluminium sections, please refer to the table below:
| | |
| --- | --- |
| Kit Length | Aluminium Sections |
| 1.55m (5'1") | 1 x 1.55m (5'1") |
| 2.0m (6'6") | 1 x 2.0m (6'6") |
| 2.5m (8'2") | 1 x 2.5m (8'2") |
| 3.1m (10'2") | 2 x 1.55m (5'1") |
| 3.55m (11'7") | 1 x 2.0m (6'6"), 1 x 1.55m (5'1") |
| 4.0m (13'1") | 2 x 2.0m (6'6") |
| 4.5m (14'8") | 1 x 2.5m (8'2"), 1 x 2.0m (6'6") |
| 5.0m (16'4") | 2 x 2.5m (8'2") |
| 5.6m (18'4") | 1 x 2.5m (8'2"), 2 x 1.55m (5'1") |
| 6.0m (19'8") | 3 x 2.0m (6'6") |
| 7.0m (22'11") | 2 x 2.5m (8'2"), 1 x 2.0m (6'6") |
| 8.0m (26'2") | 4 x 2.0m (6'6") |
| 9.0m (29'6") | 2 x 2.5m (8'2"), 2 x 2.0m (6'6") |
Delivery & Returns
Delivery Timescales
Orders are shipped via FedEx Air Express service. All orders are usually dispatched within 24 hours, excluding weekends, and delivery is usually within one week. We offer a fully tracked service for every shipment, so you can track your delivery all the way from point of order to your doorstep.
Delivery Costs
We offer delivery options as out-lined below
Delivery Country
Weight
Cost
Delivery Timescale
Australia
0-5kg
$23.40
6-7 Days via Air Express
6-10kg
$30.42
11-15kg
$46.80
16-20kg
$58.50
21-25kg
$74.88
26-30kg
$88.92
31-35kg
$100.62
36kg
Price at checkout