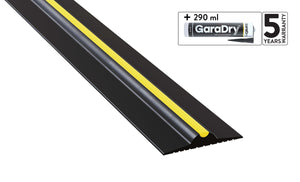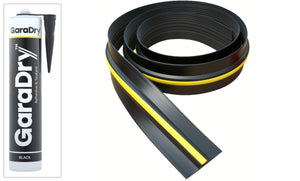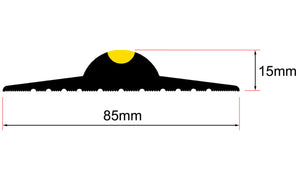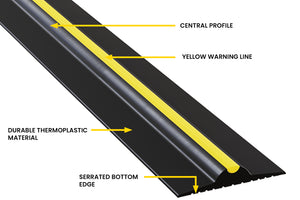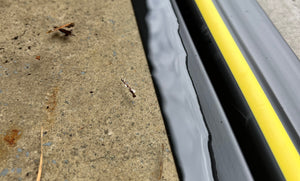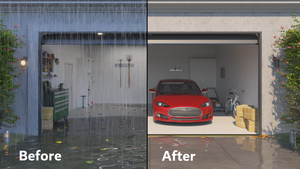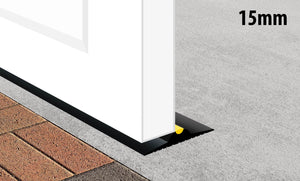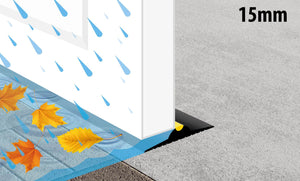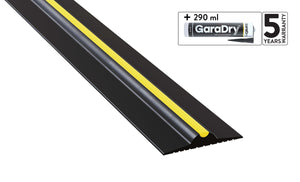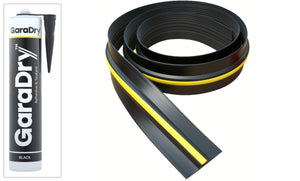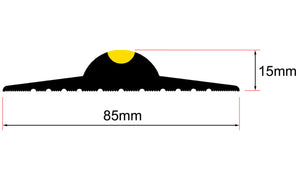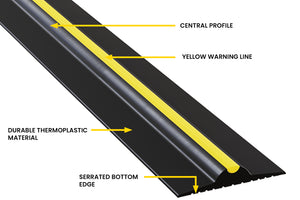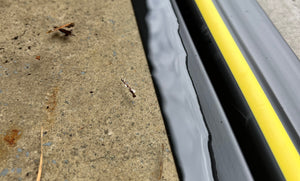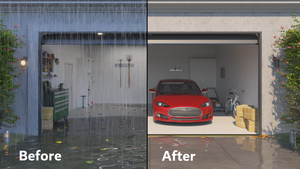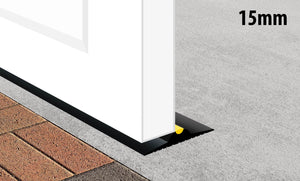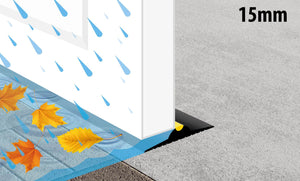 Garage Door Threshold Seal Kit 15mm (High)
Description
Our 15mm garage door threshold seal kit is a product designed to keep your garage clean and dry. Its purpose is to stop rainfall making its way inside your garage with the added bonus of stopping any leaves and other debris that may be blown into your garage.
One of the best things about our seals is they can act as a garage door rodent guard by blocking the rodents from entering the premises and making sure there is no gap they can slip through. By the nature of the seal any snakes or reptiles shouldn't be able to make their way in either.
This particular threshold is 15mm high, with a width of 85mm and is available in lengths ranging from 2.21m to 20m depending on the size of your garage. You will be able to find a seal that perfectly suits your garage door needs.
How does our garage door seal kit work?
The way this seal and the rest of our seals work is that by fitting them between the floor and the back of the garage door with our adhesive and sealant it creates a watertight seal up to 15mm high. This then protects the garage from any rainfall, wetness and dampness that might accrue by effectively making a waterproof garage door.
What type of garage doors can this seal be used on?
Our garage door seal kits can be used on all domestic and commercial types of doors. Starting out from roller shutter doors to up-and-over doors, sectional and side-hinged doors. Additionally, the threshold seal can be driven over with most vehicles, but you can refer to the buyer's guide in order to find out what cars and vehicles can drive and not drive over it.
What is the garage door seal kit made of?
All our garage door seals are made of the exact same PVC material. This material is not only highly durable and lasts a very long time without any additional support, it also is fully recyclable thus making it environmentally friendly. It won't break apart or experience wear and tear from the rain, wind, or any other weather conditions unlike rubber threshold seals, which can become brittle with prolonged contact with water. Similarly, the threshold has been designed to withstand high temperatures, and is UV-stable meaning it won't discolour in direct sunlight.
This kit includes:
15mm GaraDry® Garage Door Threshold Seal
290ml Adhesive & Sealant tube(s) equal to the amount needed for installation
Full colour instructions with a QR code link to THIS YouTube video
5-year warranty for the product
How can I get in touch with GaraDry®?
Currently there are two ways to reach us, you can either email us at sales@garadry.com.au with your query and we will respond within 24 hours. Our customer service team will take your email and answer any questions you may have or help you with your purchase. Otherwise, you can go to our enquires form by going here, fill it out with your details and we will get back to you and your question within the same 24-hour period. We look forward to helping you make a purchase that you're happy with.

Delivery & Returns
Delivery Timescales
Orders are shipped via FedEx Air Express service. All orders are usually dispatched within 24 hours, excluding weekends, and delivery is usually within one week. We offer a fully tracked service for every shipment, so you can track your delivery all the way from point of order to your doorstep.
Delivery Costs
We offer delivery options as out-lined below
Delivery Country
Weight
Cost
Delivery Timescale
Australia
0-5kg
$23.40
6-7 Days via Air Express
6-10kg
$30.42
11-15kg
$46.80
16-20kg
$58.50
21-25kg
$74.88
26-30kg
$88.92
31-35kg
$100.62
36kg
Price at checkout