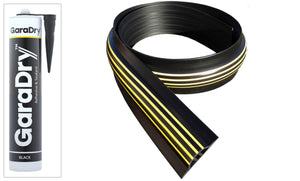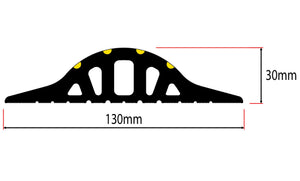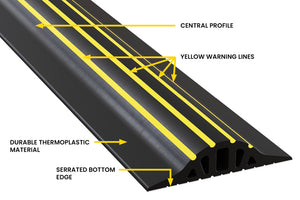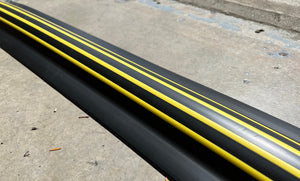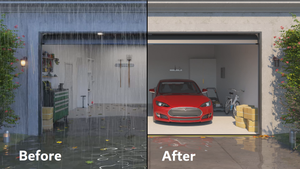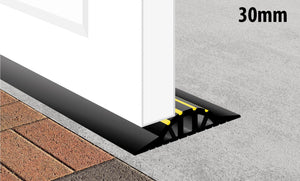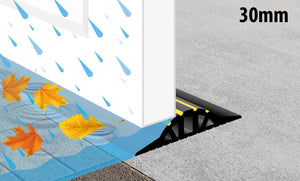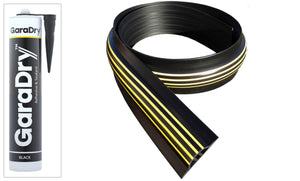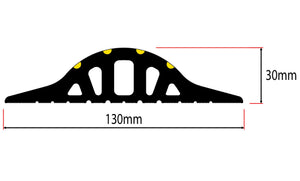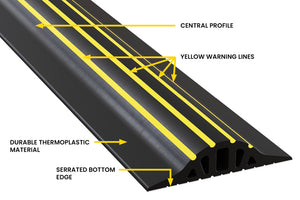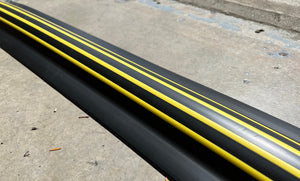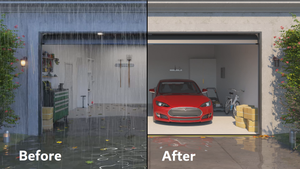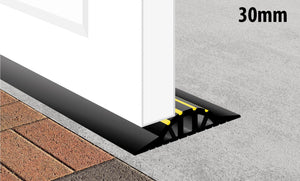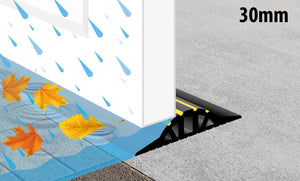 Garage Door Threshold Seal Kit 30mm (High)
Description
This 30mm garage door floor threshold seal kit is our mid-range product between the tallest options and shortest. It has all the functionality of the larger models by being able to stop a significant amount of water, but with the ease of installation of the lower height seals.
The seals are all made with extremely durable PVC material which will not bend or break due to excessive rainfall or sunlight. This simple fact separates it from rubber garage door threshold seals because of its longevity, it is flexible so before you affix it you can move it to the exact place you need it before you start cutting.
How does this garage door floor threshold seal kit work?
The seal itself comes with a tube of adhesive & sealant which is then used in combination with the seal and floor to create a watertight seal which will fully waterproof your garage against standing water up to 30mm high. Due to how secure the seal is, the product will also protect you from any debris that may appear in the garage due to high winds. Since the garage is fully sealed up you don't have to worry about that and can just relax and have a few more hours per week to yourself.
Due to how the seal works, it will also keep out any rodents and unwanted reptiles. It securely locks the bottom of the garage while also filling any gaps that the little vermin wanted to try to slip through on the sides of the garage. These seals also work on any type of domestic and commercial door, whether they're a roller shutter or up-and-over, if you have any questions feel free to contact us using the enquiries form.
Are these products environmentally friendly?
Yes, all of our range of seals, whether they are these PVC seals or the aluminium commercial thresholds are fully recyclable. We believe that the future is green and a way to achieve that is to let things like plastics and metals be used again and again. They were always designed to be re-used and re-purposed.
This kit includes:
30mm GaraDry® Threshold floor seal
Enough adhesive & sealant for the installation dependant on length
Supplied with an instruction booklet with a QR link to THIS video
5-year warranty on products included in the kit
How can I contact you?
We mentioned the enquiries form above which you can always use to send through questions, but if you have a more urgent inquiry then using sales@garadry.com.au will be your best bet. We aim to answer all queries within 24 hours of receipt, and our customer service team will be able to advise you and help you with your purchase.
Delivery & Returns
Delivery Timescales
Orders are shipped via FedEx Air Express service. All orders are usually dispatched within 24 hours, excluding weekends, and delivery is usually within one week. We offer a fully tracked service for every shipment, so you can track your delivery all the way from point of order to your doorstep.
Delivery Costs
We offer delivery options as out-lined below
Delivery Country
Weight
Cost
Delivery Timescale
Australia
0-5kg
$23.40
6-7 Days via Air Express
6-10kg
$30.42
11-15kg
$46.80
16-20kg
$58.50
21-25kg
$74.88
26-30kg
$88.92
31-35kg
$100.62
36kg
Price at checkout