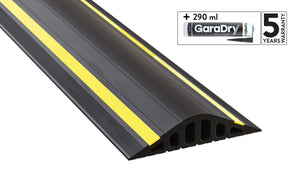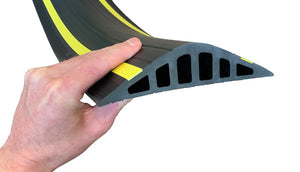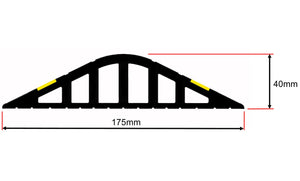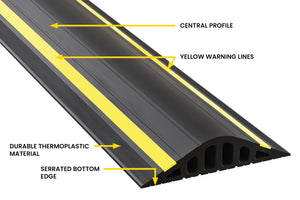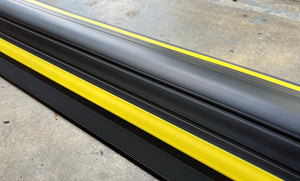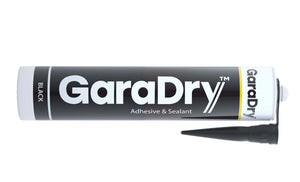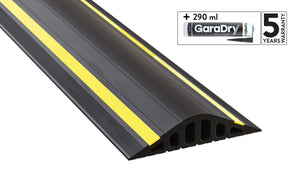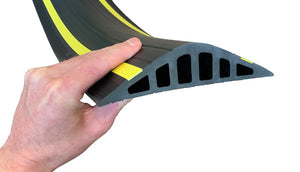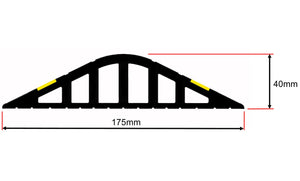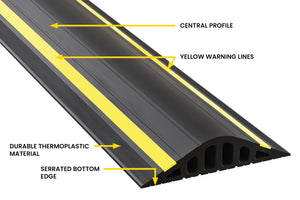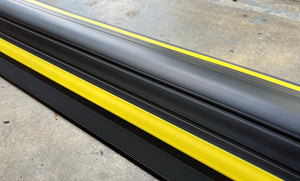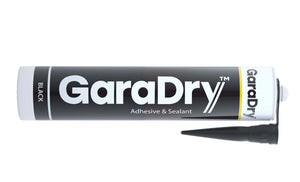 Garage Door Water Barrier Kit 40mm (High)
Description
Our 40mm garage door water barrier threshold seal is the perfect way to protect your garage from any potential flooding and water damage. This is because of its impressive size, standing tall at 40mm and made from durable PVC material this garage door threshold seal can withstand any rain that may come its way.
Not only that, the material used to make the seal is thermoplastic which means that it won't lose any of its quality due to prolonged exposure to sunlight or water. Additionally, the seal is easy to recycle and is made to be eco-friendly and can be reused plenty of times similarly to our commercial aluminium threshold seals.
How does your garage door water barrier work?
When the seal is installed on the floor using the adhesive-sealant and placed in the correct position tight against the backside of the door, it will create a watertight seal up to 40mm high. This then will block all rainfall from coming into the garage, this also includes any windswept debris such as leaves and stops dust in its tracks which is a big plus in especially dry areas. If you live in a particularly hot and dry area which also gets heavy torrential rain every so often you can't make a better purchase to protect your garage.
What are some other upsides of this garage door water barrier?
Though not as big of a selling point compared to its role as a water diverter, this garage door water barrier can also prevent small rodents and snakes from entering the garage. This is because it seals the gap between the garage door and floor, making it difficult for anything to squeeze through. Another less obvious application of the seal is that due to stopping any water coming in and repelling it the effects of rusting will be reduced because the level of condensation will be minimal if any.
What size is the garage door water barrier?
Our garage door water barrier is 40mm tall and 175mm wide while the lengths themselves range from 2.52m to 6.17m. Please be advised that with the longer lengths it can get a little heavy to carry and therefore an installation may require two people to get it to your garage, after it's placed down on the floor it'll be fine however, and you can cut it to the size you need.
This kit includes:
40mm GaraDry® Garage Door Water Barrier Seal
Amount of adhesive needed for installation based on length
Instruction booklet with a QR code that links to THIS video
5-year warranty on the seal and adhesive
How can I get in touch with GaraDry®?
The best way to reach us is to fill out the enquiries form which can be found in the top navigation or by clicking here. This will send the form through to our customer service team who will be able to help you, we aim to respond to any queries within 24 hours but most of the time it'll be sooner than that.

The other option that you can use is to simply send an email through to sales@garadry.com.au, we will respond to it within 24 hours of receiving it. This method allows you to be a little more expressive with the questions as you have unlimited room to type up whatever you like.
We look forward to hearing from you regarding this and any of our other products!
Delivery & Returns
Delivery Timescales
Orders are shipped via FedEx Air Express service. All orders are usually dispatched within 24 hours, excluding weekends, and delivery is usually within one week. We offer a fully tracked service for every shipment, so you can track your delivery all the way from point of order to your doorstep.
Delivery Costs
We offer delivery options as out-lined below
Delivery Country
Weight
Cost
Delivery Timescale
Australia
0-5kg
$23.40
6-7 Days via Air Express
6-10kg
$30.42
11-15kg
$46.80
16-20kg
$58.50
21-25kg
$74.88
26-30kg
$88.92
31-35kg
$100.62
36kg
Price at checkout