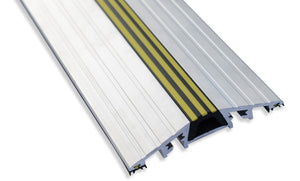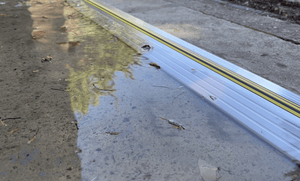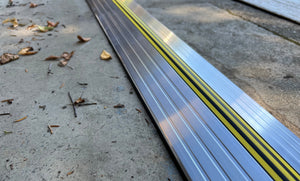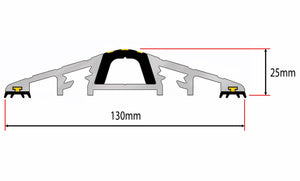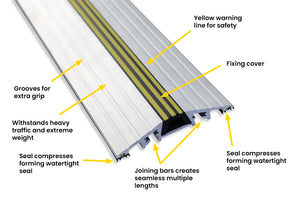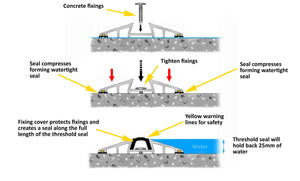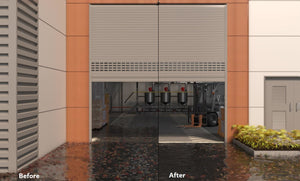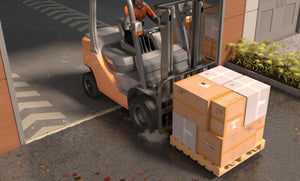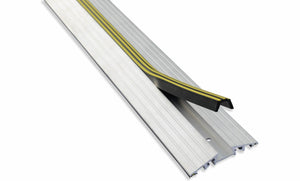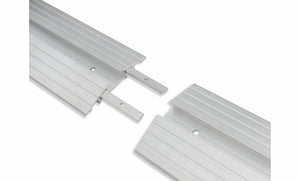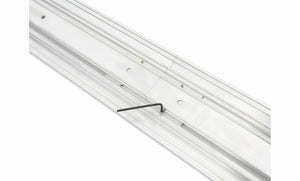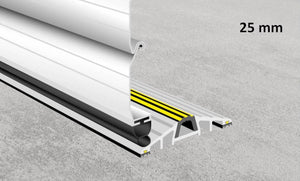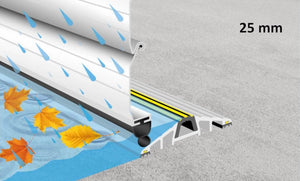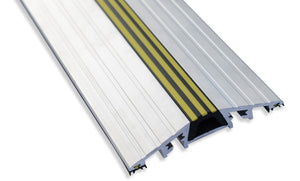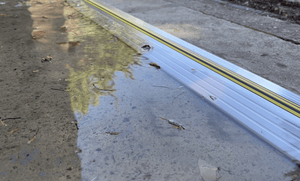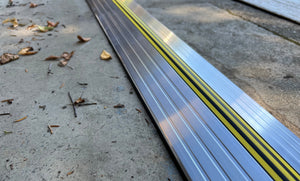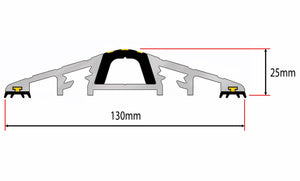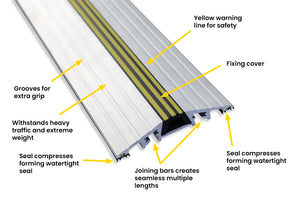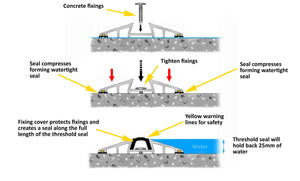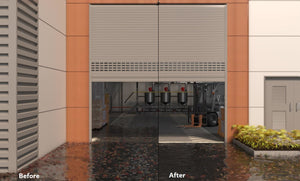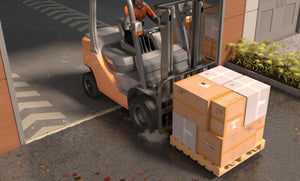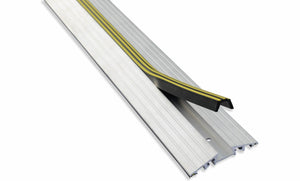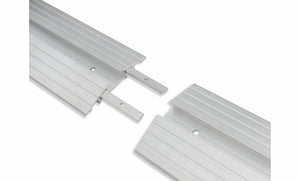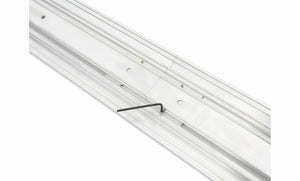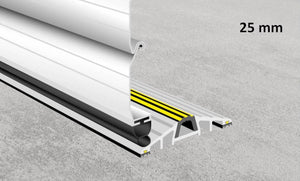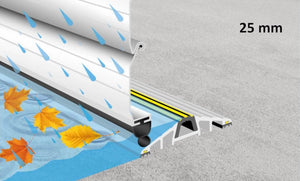 Commercial Door Threshold Seal 25mm (High)
Description
This 25mm aluminium door threshold seal is used for commercial and domestic fittings in order to stop rain from ruining your business premises or garage. These kits are created in order to waterproof any place and will also act as a barrier against anything else the weather brings with it like for example leaves or perhaps dust being blown in on the hotter days. This aluminium door threshold can also withstand any traffic that will come its way from industrial vehicles like forklifts and pallet stackers.
What material and parts make up this aluminium threshold seal?
The commercial door threshold seal you see on this page is made of aluminium sections which are joined together with a flat bar inserts to give them rigidity and then PVC seals slide in to watertight seal up to 25mm high between the garage door and floor. This will then prevent flooding inside the premises, not permitting any water through.
This particular seal has a yellow warning strip in the middle made of the same PVC you can find in our garage door seal kits, while also having small strips of the same PVC on the underside of the threshold seal.
Why should you purchase a 25mm commercial door aluminium threshold?
It will act as a rodent guard while also providing protection from the elements. Because of its size and being made of aluminium it prevents any smaller vermin like mice and rats from entering the door, while already acting like a seal.
The threshold seal itself will also not only act as a water diverter moving it away from the premises it will also keep everything in either your premises or garage effectively dry. This is important if you have any metal tools and equipment which is prone to rusting, cardboard or paper that is sitting in the warehouse. It will also reduce water condensation and dampness in general, allowing your work to not be disrupted and slow down the rusting process.
The Kit Includes:
Aluminium sections depending on length chosen
Bottom insert seals
Top cap
Concrete screws
T30 Screwdriver Bit
Flat bar insert(s)
Grub screws
Allen key
Fitting instruction manual
I have a few questions about this product, how can I contact you?
You can contact us by sending an email to sales@garadry.com.au and we will reply to your query within 24 hours and help you pick out the best options for your needs. Another way you can achieve the same result is to head over to our contact form page either by clicking here or scrolling up and clicking the enquiries button in the navigation. Once you have filled the form and sent it over, we will aim to answer your questions in 24 hours after receiving your completed form.
Kits longer than 2.5m (8'2") will be supplied with multiple aluminium sections, please refer to the table below:
| | |
| --- | --- |
| Kit Length | Aluminium Sections |
| 2.0m (6'6") | 1 x 2.0m (6'6") |
| 2.5m (8'2") | 1 x 2.5m (8'2") |
| 3.1m (10'2") | 2 x 1.55m (5'1") |
| 4.0m (13'1") | 2 x 2.0m (6'6") |
| 4.5m (14'8") | 1 x 2.5m (8'2"), 1 x 2.0m (6'6") |
| 5.0m (16'4") | 2 x 2.5m (8'2") |
| 5.6m (18'4") | 1 x 2.5m (8'2"), 2 x 1.55m (5'1") |
| 6.0m (19'8") | 3 x 2.0m (6'6") |
| 7.0m (22'11") | 2 x 2.5m (8'2"), 1 x 2.0m (6'6") |
| 8.0m (26'2") | 4 x 2.0m (6'6") |
| 9.0m (29'6") | 2 x 2.5m (8'2"), 2 x 2.0m (6'6") |
Delivery & Returns
Delivery Timescales
Orders are shipped via FedEx Air Express service. All orders are usually dispatched within 24 hours, excluding weekends, and delivery is usually within one week. We offer a fully tracked service for every shipment, so you can track your delivery all the way from point of order to your doorstep.
Delivery Costs
We offer delivery options as out-lined below
Delivery Country
Weight
Cost
Delivery Timescale
Australia
0-5kg
$23.40
6-7 Days via Air Express
6-10kg
$30.42
11-15kg
$46.80
16-20kg
$58.50
21-25kg
$74.88
26-30kg
$88.92
31-35kg
$100.62
36kg
Price at checkout